TEJIDOS CAVITEX, S.L.
POL.IND. L´ALCUDIA – C/ CAVES D'AGRES, 10-12 
03820 – L´ALCUDIA DE COCENTAINA (ALICANTE)
Tlf./Fax: 966501240 / 966501241
info@cavitex.es
www.cavitex.es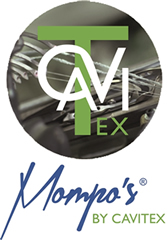 In 1983 José Vicente and Juan Carlos Soriano founded Cavitex C.B, which was the beginning of a long adventure in the Textile sector.
Due to the growth in sales, in 1990 Tejidos Cavitex S.L. was founded. It's a specialized company dedicated to the manufacture and commercialization of Jacquard and plain fabrics for upholstery and decoration with a young, dynamic and enterprising spirit.
In 2009 the company consolidated its exports with an ascending line, basing its policy on service and quality by creating its own brand " MOMPO'S by CAVITEX".
In 2015, with the desire to continue taking care of the environment and the constant struggle for improvement in R & D, it became possible to carry out their own project " Ecofiretex" which gained for Cavitex with the seal of Innovative Pyme.
In 2017 Cavitex carried out a new project " Nautex", which ended in September 2018, providing an improvement in R & D in the Outdoor and Contract sector.
WHY CHOOSING CAVITEX
· Own design and manufacturing.
· Fabric adaptability
· International service
· Committed delivery date
· Stock service
· Over 30 years of experience
In 2015, our urge to preserve the environment and our ongoing improvement in I+D made possible to accomplish our project "Ecofiretex", You can get all the information on this project from our website as well as in social networks.