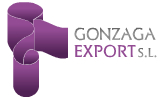 Gonzaga Export, S.L. is a Spanish textile company established more than 40 years ago with a strong experience exporting upholstery and home decoration fabrics.
We specialise in Jacquard and Dobby weaving in 300, 280 and 140 cm width. Our range consists of the following types of fabrics: PIECE-DYED, PRINTED, YARN-DYED JACQUARD, CHENILLE, OUTDOOR, UPHOLSTERY, DECORATION and TEXTILES FOR CLOTHING.
Customized collections can be created under request or a wide range of items in stock can be purchased for immediate delivery. We manage excellent production terms, careful attention to high quality standard and a good regularity of supply. All our joint efforts are targeted to a primary goal: MEET OUR CUSTOMERS' NEEDS AND EXPECTATIONS!